26 February, 2021, Chandigarh Aapna Pollywood
Get ready to rock as the global phenomenon Hard Rock Cafe opens its famous doors to Chandigarhians in Sector 26 in the city beautiful . A fusion of eclectic and classical, with a touch of avant-garde, the 10,000 sq. feet cafe that is divided into two floors café, promises to take you on a journey that's legendary, inside-out. A larger-than-life experience is what you can soak in at Hard Rock Cafe Chandigarh, a space where music links lives. Every part of the cafe is designed as a perfect blend of the grunge of rock and classical elegance of fine dining, with the space offering immersive, eclectic and personal experiences for the guests.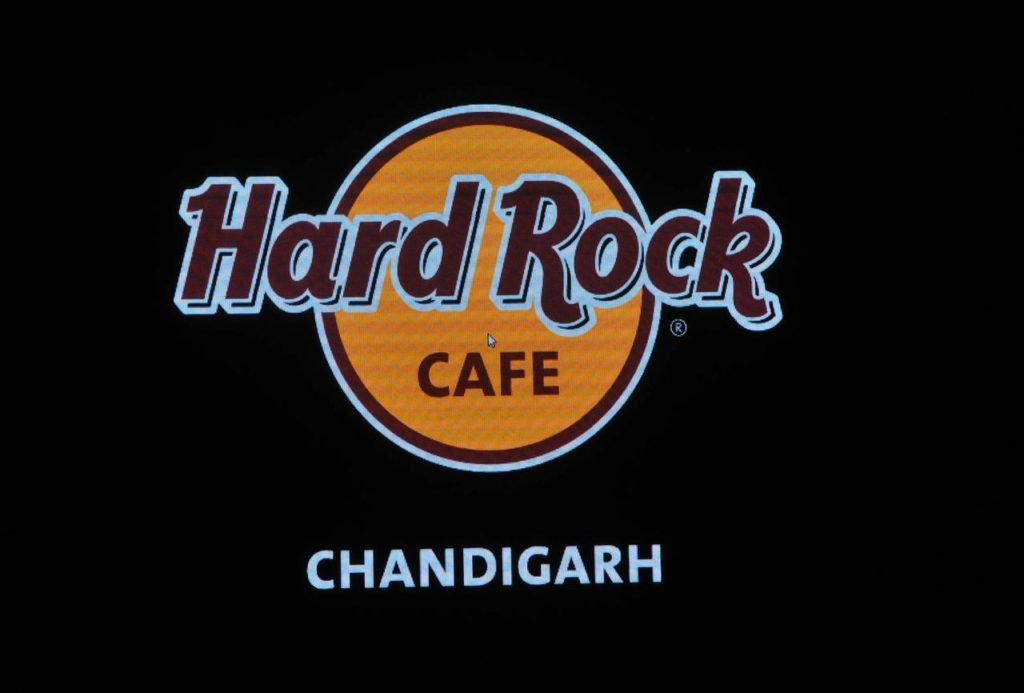 The Rock Shop that houses fashion collectibles, the well-stocked bar, a mesmerizing live music stage – each of the spaces is surrounded by memorabilia of legendary artists through the ages to transform guests to music wonderland. The cafe is loaded with guitar memorabilia coming from heavy metal legendary bands like 'Megadeth, Slayer, Metallica, Korn' followed by pop and rock bands 'Maroon5, Pink Floyd & U2' to name just a few. The drum kit memorabilia of American rock band 'Aerosmith' and rare live stage performance costumes of legendary personalities like 'Black Eyed Peas, Led Zeppelin and Madonna' will rock your blues away.
The menu has been curated and conceptualized by Chef Cyrus Irani, who has over two decades of experience and loves innovating with American as well as Mediterranean dishes with Asian flair. The result is a menu that rocks, and has unique offerings, innovative flavours and explorative cooking techniques. Choose from American signatures such as the Legendary Burger, Wings, Classic Nachos, Sliders and entrees such as Famous Fajitas or Tupelo Chicken Tenders, or even Indo-fusion cuisine serving local flavours in signature Hard Rock Cafe style. The local favourites include vegetarian and non-vegetarian platters, Gunpowder Chicken Tikka, Kandhari Paneer Tikka with Pomegranat3e Molasses among others. "Here, you will find a quirky take on traditional classics for guests to enjoy a first-hand experience into the celebratory culture and style of Punjab; all of these done whilst preserving the original taste of the dishes", says Cyrus.
Upbeat and excited to open Hard Rock Cafe in the country's first modern city, Sanjay Mahtani, co-founder of JSM Corporation Pvt Ltd (franchise holder of Hard Rock Cafe in India and Lagos), says he is looking forward to welcoming guests to Chandigarh's very own Hard Rock Cafe, a unique amalgamation of music, entertainment, iconic merchandise and authentic food with the aim to elevate & redefine the music and dining experience of the enthralling city of Chandigarh. Sanjay is thrilled to partner with local franchise owner, Sukrant Arora, in launching this special cafe that will cater to the tri-city. "The newer spaces are designed keeping the youth in mind, with a high energy vibe, offering a casual dining ambiance, where the guests can enjoy authentic American signatures by Hard Rock International. Here, you can let the music take control and just be", stated Sanjay.
" Along with delicious food offerings, Hard Rock Cafe Chandigarh will offer guests a time to remember with live shows and comedy nights, private dining options and a whole lot more in near future; do check out Tri-city's buzzing new spot now. Let there be rock" , stated , Kunal Joshi, Director of Operations, Hard Rock Cafe India.